The Bamboozle Roadshow - ON SALE NOW!!
The Bamboozle Roadshow is on sale now! We are offering general admission & 2 different VIP packages, one where you can meet Boys Like Girls and another where you'll get first access to the venue so you're up front for the show! To buy tickets visit the
TOUR
section of this site, find your show and follow the link!! We will see you at the shows!
For a full list of bands in each city click here.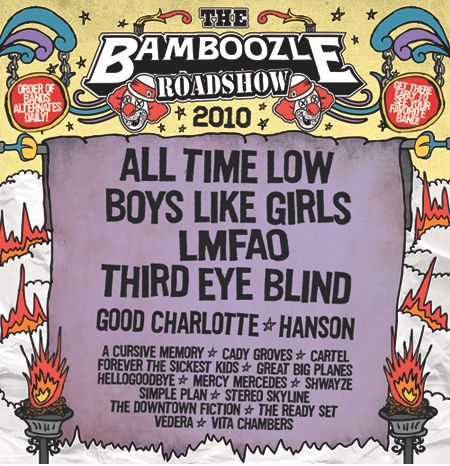 Here is the band list by city!
Reminder: The line up changes every day so get there early!!
To buy tickets visit the
TOUR
section of this site, find your show and follow the link! May 21 – Columbia, MD – Merriweather Post Pavilion - ALL TIME LOW, BOYS LIKE GIRLS, CARTEL, FOREVER THE SICKEST, GOOD CHARLOTTE, HANSON, CADY GROVES, GREAT BIG PLANES, MERCY MERCEDES, THE DOWNTOWN FICTION, THE READY SET, VITA CHAMBERS May 22 – Charlotte, NC – Uptown Amphitheatre @ The Music Factory – ALL TIME LOW, BOYS LIKE GIRLS, CARTEL, FOREVER THE SICKEST, GOOD CHARLOTTE, HANSON, CADY GROVES, GREAT BIG PLANES, MERCY MERCEDES, THE DOWNTOWN FICTION, THE READY SET, VITA CHAMBERS May 23 – Atlanta, GA – Six Flags Over Georgia - ALL TIME LOW, BOYS LIKE GIRLS, CARTEL, FOREVER THE SICKEST, GOOD CHARLOTTE, HANSON, CADY GROVES, GREAT BIG PLANES, MERCY MERCEDES, THE DOWNTOWN FICTION, THE READY SET, VITA CHAMBERS May 25 – West Palm Beach, FL – Cruzan Amphitheatre -- ALL TIME LOW, BOYS LIKE GIRLS, CARTEL, FOREVER THE SICKEST, GOOD CHARLOTTE, HANSON, CADY GROVES, GREAT BIG PLANES, MERCY MERCEDES, THE DOWNTOWN FICTION, THE READY SET, VITA CHAMBERS May 26 – Tampa, FL – Ford Amphitheatre -- ALL TIME LOW, BOYS LIKE GIRLS, CARTEL, FOREVER THE SICKEST, GOOD CHARLOTTE, HANSON, CADY GROVES, GREAT BIG PLANES, MERCY MERCEDES, THE DOWNTOWN FICTION, THE READY SET, VITA CHAMBERS May 28 – Houston, TX – Verizon Wireless Theatre (No 2nd Stage) -- ALL TIME LOW, BOYS LIKE GIRLS, CARTEL, FOREVER THE SICKEST, GOOD CHARLOTTE, HANSON, CADY GROVES, GREAT BIG PLANES, MERCY MERCEDES, THE DOWNTOWN FICTION, THE READY SET, VITA CHAMBERS May 29 – San Antonio, TX – Six Flags Fiesta Texas -- ALL TIME LOW, BOYS LIKE GIRLS, CARTEL, FOREVER THE SICKEST, GOOD CHARLOTTE, HANSON, CADY GROVES, GREAT BIG PLANES, MERCY MERCEDES, THE DOWNTOWN FICTION, THE READY SET, VITA CHAMBERS May 30 – Arlington, TX – Six Flags Over Texas -- ALL TIME LOW, BOYS LIKE GIRLS, CARTEL, FOREVER THE SICKEST, GOOD CHARLOTTE, HANSON, CADY GROVES, GREAT BIG PLANES, MERCY MERCEDES, THE DOWNTOWN FICTION, THE READY SET, VITA CHAMBERS June 2 – Phoenix, AZ – Cricket Amphitheatre - ALL TIME LOW, BOYS LIKE GIRLS, 3OH!3, COBRA STARSHIP, GOOD CHARLOTTE, TRAVIE MCKOY, FOREVER THE SICKEST KIDS, CADY GROVES, GREAT BIG PLANES, I FIGHT DRAGONS, MERCY MERCEDES, THE DOWNTOWN FICTION, THE READY SET June 5 – Concord, CA - Sleep Train Pavilion at Concord – ALL TIME LOW, BOYS LIKE GIRLS, THIRD EYE BLIND, FOREVER THE SICKEST KIDS, GOOD CHARLOTTE, HELLOGOODBYE, SHWAYZE , A CURSIVE MEMORY, CADY GROVES, GREAT BIG PLANES, MERCY MERCEDES, THE DOWNTOWN FICTION, THE READY SET, VITA CHAMBERS June 6 – Chula Vista, CA – Cricket Wireless Amphitheatre – Parking Lot -- ALL TIME LOW, BOYS LIKE GIRLS, THIRD EYE BLIND, FOREVER THE SICKEST KIDS, GOOD CHARLOTTE, HELLOGOODBYE, SHWAYZE , A CURSIVE MEMORY, CADY GROVES, GREAT BIG PLANES, MERCY MERCEDES, THE DOWNTOWN FICTION, THE READY SET, VITA CHAMBERS June 10 – Minneapolis, MN - Cabooze Plaza – ALL TIME LOW, BOYS LIKE GIRLS, LMFAO, THIRD EYE BLIND, FOREVER THE SICKEST KIDS, GOOD CHARLOTTE, HELLOGOODYBE, CADY GROVES, GREAT BIG PLANES, MERCY MERCEDES, STEREO SKYLINE, THE READY SET, VITA CHAMBERS June 11 – Milwaukee, WI - Eagles Ballroom - ALL TIME LOW, BOYS LIKE GIRLS, THIRD EYE BLIND, FOREVER THE SICKEST KIDS, GOOD CHARLOTTE, HELLOGOODYBE, CADY GROVES, GREAT BIG PLANES, MERCY MERCEDES, STEREO SKYLINE, THE READY SET, VITA CHAMBERS June 12 – Chicago, IL- Soldier Field - Parking Lot - ALL TIME LOW, BOYS LIKE GIRLS, THIRD EYE BLIND, FOREVER THE SICKEST KIDS, GOOD CHARLOTTE, HELLOGOODYBE, CADY GROVES, GREAT BIG PLANES, MERCY MERCEDES, STEREO SKYLINE, THE READY SET, VITA CHAMBERS June 13 – Eureka, MO – Six Flags St. Louis - ALL TIME LOW, BOYS LIKE GIRLS, LMFAO, THIRD EYE BLIND, FOREVER THE SICKEST KIDS, GOOD CHARLOTTE, HELLOGOODYBE, CADY GROVES, GREAT BIG PLANES, MERCY MERCEDES, STEREO SKYLINE, THE READY SET, VITA CHAMBERS June 15 – Clarkston, MI – DTE Energy Music Theatre - ALL TIME LOW, BOYS LIKE GIRLS, THIRD EYE BLIND, FOREVER THE SICKEST KIDS, GOOD CHARLOTTE, HELLOGOODYBE, CADY GROVES, GREAT BIG PLANES, MERCY MERCEDES, STEREO SKYLINE, THE READY SET, VITA CHAMBERS June 18 – Cleveland, OH – Time Warner Cable Amphitheatre @ Tower City - ALL TIME LOW, BOYS LIKE GIRLS, LMFAO, THIRD EYE BLIND, FOREVER THE SICKEST KIDS, GOOD CHARLOTTE, SIMPLE PLAN, CADY GROVES, GREAT BIG PLANES, MERCY MERCEDES, STEREO SKYLINE, THE READY SET, VITA CHAMBERS June 19 – Cincinnati, OH - PNC Pavilion @ Riverbend Music Center - ALL TIME LOW, BOYS LIKE GIRLS, LMFAO, THIRD EYE BLIND, FOREVER THE SICKEST KIDS, GOOD CHARLOTTE, SIMPLE PLAN, CADY GROVES, GREAT BIG PLANES, MERCY MERCEDES, STEREO SKYLINE, THE READY SET, VITA CHAMBERS June 20 – Philadelphia, PA – Festival Pier @ Penn's Landing - ALL TIME LOW, BOYS LIKE GIRLS, LMFAO, THIRD EYE BLIND, FOREVER THE SICKEST KIDS, GOOD CHARLOTTE, SIMPLE PLAN, CADY GROVES, GREAT BIG PLANES, MERCY MERCEDES, STEREO SKYLINE, THE READY SET, VITA CHAMBERS June 23 – Pittsburgh, PA – Amphitheatre @ Station Square - ALL TIME LOW, BOYS LIKE GIRLS, LMFAO, THIRD EYE BLIND, FOREVER THE SICKEST KIDS, GOOD CHARLOTTE, SIMPLE PLAN, CADY GROVES, GREAT BIG PLANES, MERCY MERCEDES, STEREO SKYLINE, THE READY SET, VEDERA, VITA CHAMBERS June 24 – Jackson, NJ – Six Flags Great Adventure - ALL TIME LOW, BOYS LIKE GIRLS, LMFAO, THIRD EYE BLIND, FOREVER THE SICKEST KIDS, GOOD CHARLOTTE, SIMPLE PLAN, CADY GROVES, GREAT BIG PLANES, MERCY MERCEDES, STEREO SKYLINE, THE READY SET, VEDERA, VITA CHAMBERS June 25 – Hershey, PA – Hershey Park Pavilion & Stadium - ALL TIME LOW, BOYS LIKE GIRLS, LMFAO, THIRD EYE BLIND, FOREVER THE SICKEST KIDS, GOOD CHARLOTTE, SIMPLE PLAN, CADY GROVES, GREAT BIG PLANES, MERCY MERCEDES, STEREO SKYLINE, THE READY SET, VEDERA, VITA CHAMBERS June 26 – Nassau, NY – Nassau Coliseum - Parking Lot - ALL TIME LOW, BOYS LIKE GIRLS, LMFAO, THIRD EYE BLIND, FOREVER THE SICKEST KIDS, GOOD CHARLOTTE, SIMPLE PLAN, CADY GROVES, GREAT BIG PLANES, MERCY MERCEDES, STEREO SKYLINE, THE READY SET, VEDERA, VITA CHAMBERS June 27 – Boston, MA - Comcast Center - ALL TIME LOW, BOYS LIKE GIRLS, LMFAO, THIRD EYE BLIND, FOREVER THE SICKEST KIDS, GOOD CHARLOTTE, SIMPLE PLAN, CADY GROVES, GREAT BIG PLANES, MERCY MERCEDES, STEREO SKYLINE, THE READY SET, VEDERA, VITA CHAMBERS